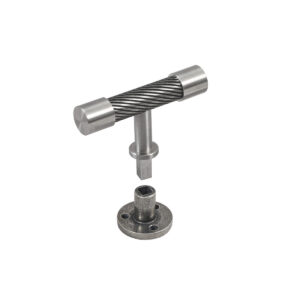 T-pull handles are becoming an increasingly popular trend in minimalistic kitchens due to their simplistic design.
When designing our new immix collection of cupboard handles, we identified a common issue with t-pulls currently on the market - once installed, t-pulls may rotate slightly over time which requires frequent adjustment to realign the product into its original horizontal or vertical position.
Innovation is at the heart of the immix collection - as such, all products have been designed with extreme detail to offer uncompromised quality and style, as well as complete functionality. Therefore, to prevent this issue with the immix t-pull, our Research and Development team designed an innovative anti-rotation mechanism which would retain the product in the correct position without the need for readjustment. The unique mechanism is unlike anything currently on the market and is currently seeking patent approval.
Once the design for the anti rotation mechanism has been finalised, we discovered that the immix cupboard knob would also benefit from this feature to maintain the products pattern in a horizontal or vertical alignment once installed. The feature is therefore available as an optional extra for the immix t-pull handles, as well as the immix cupboard knob. 
The anti-rotation mechanism offers easy installation with step by step fitting instructions and comes complete with an integrated spindle, end cap fitting and suitable fixings. All products featuring the anti-rotation mechanism caters for cupboard doors between 18mm and 24mm thick. 
Please note: Anti-rotation must be specified prior to product installation – once a standard t-pull has been fitted, we are unable to provide the anti-rotational mechanism without extra charges. 
View our range of immix t-pulls and cupboard knobs below.