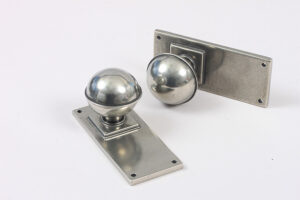 Pewter is a precious metal consisting of 91% tin, 7.5% antinomy and 1.5% copper. The material is a soft metal with a low melting point of around 170-230°C which is perfectly suited to the casting process.
At Finesse Design, all products are handmade in our UK based factory using a combination of modern technology and traditional craftsmanship from solid, genuine pewter.
What Colour is Pewter?
Pewter offers a stunning, natural finish with mid-silver hues and warm blue tones. The material is often described as luxurious, elegant and timeless with depths of character and charm. Therefore, pewter is a popular choice for home accessories.
Our products may darken slightly overtime as they are exposed to the surrounding environment and develop a natural patina. However, the products original finish can be easily restored by applying a light coat of metal polish such as Brasso. 
How Does Solid Pewter Hardware Differ from Pewter Effect Hardware?
At Finesse Design, we are the sole manufacturer of architectural ironmongery products from solid pewter in the UK. Using the finest materials, we produce handmade products which are extremely durable and robust to withstand even the harshest of conditions. Our pewter products are warm to touch, bringing an inviting feel to the home, and are also heavy in weight which further reflects the high quality of the product.
Solid pewter should not be confused with cheaper alternative metals which have been coated to mimic the effects of pewter - also known as 'pewter effect' or 'pewter patina'.  Our solid pewter handles are typically more expensive than pewter effect products due to the higher quality materials used and the skilled craftsmanship required.
Can Solid Pewter Be Used Externally?
One of pewters many unique properties is its exceptional performance in external and coastal applications. All Finesse products have been independently tested to BS EN 1670:2007 Grade 5 to offer complete protection against rust and corrosion. 
Are Solid Pewter Products Suitable For Use With Accoya Wood?
Accoya wood is a class 1 durable material which is typically used in window frames, doors, facades, decking and cladding. Made from pine trees, the raw material undergoes a modification process using acetic acid to create a wood that is durable, rot resistant and maintains stability across climates.  
All Finesse products have been designed using pewter and stainless steel components and have been approved for use with Accoya wood. 
How Do I Care For Solid Pewter Products?
Solid pewters stunning, natural finish can be maintained with minimal care. We recommend the occasional clean of our products using warm soapy water and buff dry with a soft cloth. We strongly recommend against the use of solvent cleaners and household polishes as harsh chemicals may cause irreversible damage to the surface and may cause discolouration. 
 Shop our range of pewter architectural ironmongery products below.