Multipoint door handles are a popular choice for entrance and patio doors in the home due to their high levels of security. They are typically installed with a multipoint locking system which offers a minimum of three locking points to secure the door to the frame. 
When specifying multipoint handles for your home, there are a few options you must consider:
1. Handle Design & Finish
Firstly, choose a design and finish that matches your home interior decor scheme. At Finesse Design we offer a range of multipoint handle designs to cater for anything from traditional and period properties to modern and stylish homes. All of our multipoint handles are handmade from solid pewter in our factory based in Consett, County Durham to offer a stunning, natural finish of mid silver hues and warm blue tones. Shop our range of multipoint handles below:
Once you have chosen your handle design and finish, there are typically three types of multipoint handles to choose from - Entry, Patio or Passage. This option determines the configuration of euro cylinder profiles on the backplate.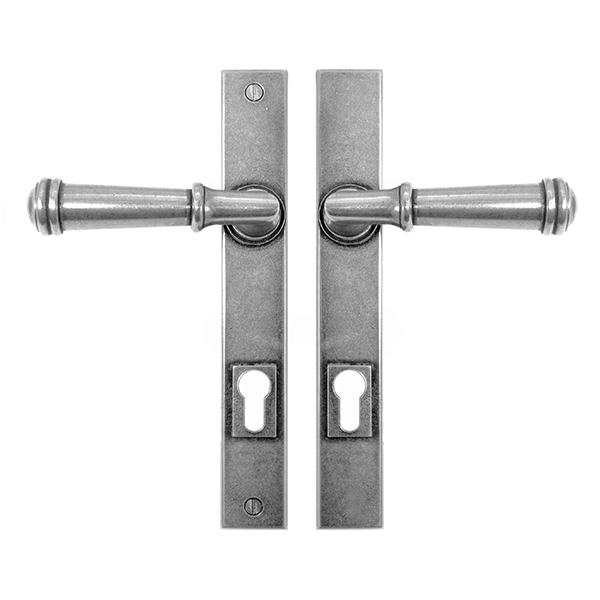 Entry multipoint handles are designed with euro profile locks on both backplates to allow locking from both the internal and external side of the door.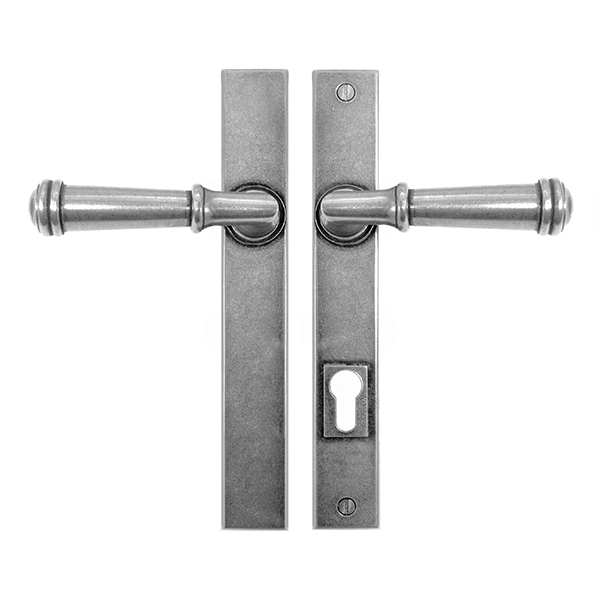 Patio multipoint handles allow locking only from the internal side of the door, increasing security by limiting keyed access from the exterior of the home.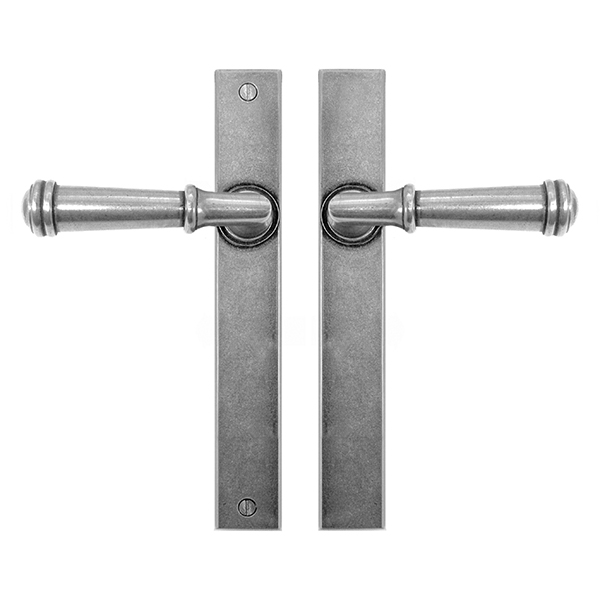 Passage multipoint handles are to be used for passage doors only that do not require locking. This type of handle is typically used for biparting patio doors whereby only one door requires locking. 
At Finesse Design, our Entry multipoint handles are available in two options - Sprung and Unsprung. This option determines what type of locking system should be used with the handle:
Sprung multipoint handles are designed with a spring cassette within the backplate to allow the handle to return to its original position after locking. This type of handle can be installed with any quality locking system.
Unsprung multipoint handles are not supplied with a spring cassette and therefore rely on the tension within the lock to return the handle to its original position after use. Therefore, this type of handle should be used with a high quality locking system.
As well as the different locking system requirements, sprung and unsprung multipoint handles also have visual differences. The sprung multipoint backplate is slightly thicker to house the spring cassette - measuring 240mm x 32mm x 12.5mm and the unsprung multipoint backplate measures 250mm x 35mm x 9.5mm. Due to these dimensional differences, we recommend that sprung and unsprung multipoint handles are not mixed and matched throughout the home (particularly on biparting doors) to ensure a harmonious look.
If you have any further questions, please contact our friendly customer service team on 01207 500050 or sales@finessedesign.com.